Name Tags and I.D. Badges
These name tags are not only visually stunning, but are also highly practical and provide solutions for many needs.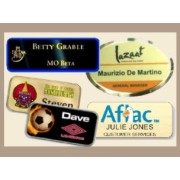 Each of our custom designed name tags features high-end quality products unmatched by others. As a leader in the name tag industry, 12HourAwards uses the highest level of technology available to create state of the art name tags.
We offer $10 flat rate shipping, Volume Discounts, FREE engraving and a FREE proof of the order.
Select Item Below